If you are looking to setup a schedule or time when you want R1Soft to make backups of your server then you will want to create a Policy in your R1Soft control panel. To do this follow these steps:

1. Login to your R1Soft Control Panel, SolaDrive users will find this here: https://backup.soladrive.com/
2. You will want to select the "Policies" tab on the left side of your control panel dashboard: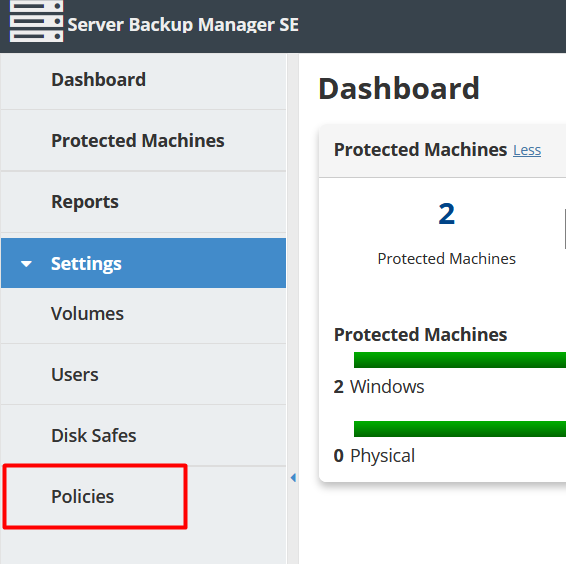 3. You will then want to click "Create New Policy" towards the top left of the page: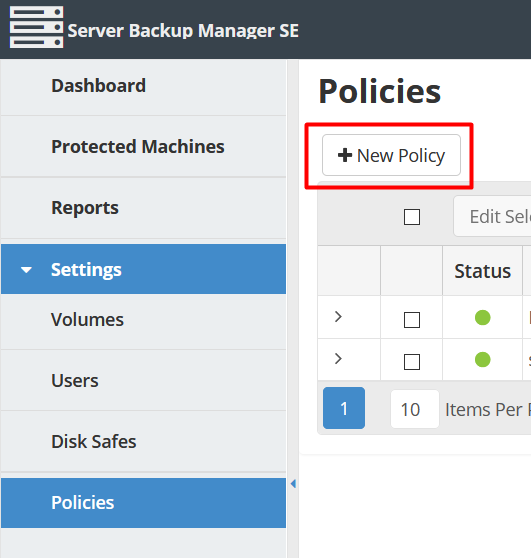 4. A window will now pop up that will allow you to enter all the information needed to create a schedule of when your backups will run. Most of it is self-explanatory but here are the important parts:

Protected Machine: You will want to select the machine/server that you want to schedule backups for.

Disk Safe: The disk safe is a collection of your recovery points and essentially a container of your data. If you haven't created this yet you will want to do this first and assign it to your server you are creating this Policy for. Once that is done, you can come back to this option and select the Disk Safe you created.

Backup Schedule: Now you can set the specific time(s) you want the backup to be run. Most people select the Daily option and have it run during off-peak hours to avoid any additional load on their server. However, you can set it to run as often as every 5 minutes to once a year if you'd like.

Local Retention:  Local retention points allows you to set how many backups you want kept before they are merged and deleted. For example, if you put 5 for "Daily" it will keep backups for the last 5 days. If you put 5 for "Weeks" you'll have a single backup of each week, for the last 5 weeks.

5. You do not need to fill out anything on the other tabs at the top of this window as it will not impact your scheduled backups. If you need help configuring any of these, we suggest  seeking assistance from a SolaDrive R1Soft Expert. These advanced options can be useful for things such as excluding files or directories you don't care to have backed up, or integrating R1Soft backups to your cPanel server.

6. You can now select "Create and run" which will kick of an initial backup. As this is the first one, it can take a while depending on how much data it has to backup. After the initial backup the process usually is much quicker as it will only backup data that has changed since the last backup was made.