Malware is malicious software that is intended to cause harm to the operating system, applications, or data without the user's consent. There are various types of malware including trojans, rootkits, backdoors, viruses, and worms.
Acronis Malware protection is based on behavior detection. It allows you to identify and block any type of malware on the fly. Behavior detection is effective in that it allows the detection of not only well-known malware but also new and zero-day malware instances.
To enable real-time malware protection on your device in the Acronis Cyber Protect console, go to your desired protection plan (or create a new protection plan altogether) and in the plan settings, enable the "Antimalware Protection" module. Then under this module, set the "Realtime Protection" parameter to "Quarantine" as shown below.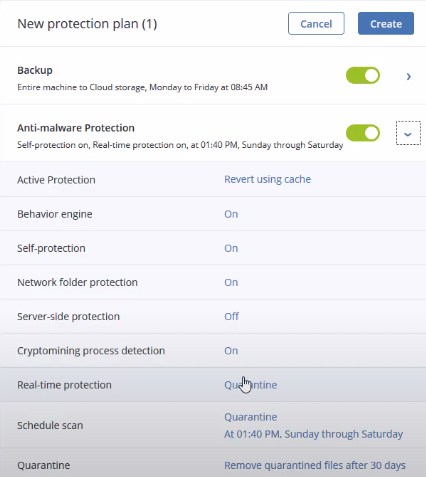 When a malicious file is detected on the device with real-time protection enabled, the following alert will be raised in the Acronis Cyber Protect console under the "Alerts" menu. The file will automatically be quarantined.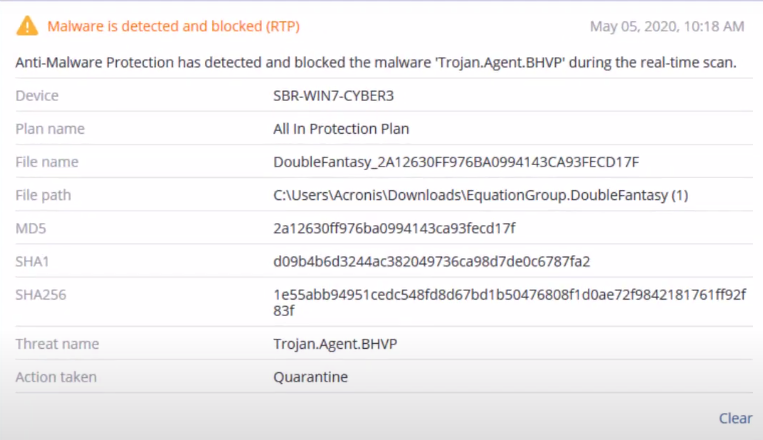 Congratulations! You have successfully turned on real-time malware protection for your device using Acronis.